About Homer Smith's Docks & Marina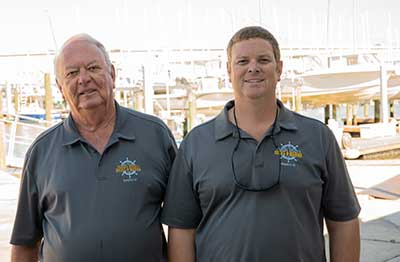 Tony and Matt Frost run a father-and-son marina operation that has a reputation of going out of their way to help customers. Tony has been in the seafood business for over 40 years managing fishing trawlers and buying and selling seafood. Matt is East Carolina University graduate and has worked in the family business for over twenty years. In 2007, Tony and Matt started a new venture with an idea of developing their property into a marina as a perfect addition to their seafood business. After seven long years of struggles, getting permits and financing, the marina was finally approved. In 2015, Homer Smith Docks and Marina opened C Dock with 31 slips and six boatlifts. By the spring of 2016, B dock was opened with 30 boatlift slips. During the summer of 2016, they were all occupied.
Today, Homer Smith Docks and Marina has over 178 wet slips and boatlifts, with 16 transient slips for boaters traveling the east coast. We have added a new clubhouse facility with showers, laundry and captains lounge. Tony and Matt are excited about the future of the marina and hope to continue to serve their boaters with the unfettered service for which they are known.